Review Summary:
They make you feel comfortable during the process. No pressure, no games. 12/07/2012
Syosset Gold Buyers
Voted #1 Gold Buyer- 4 Years running! | "A" rated BBB business!
110% Price Guarantee*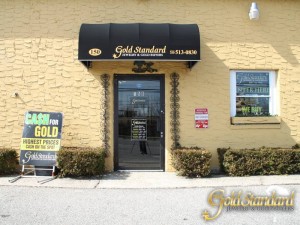 The Gold Standard Jewelry & Gold Buyers price guarantee applies to scrap gold only. Competitive offer must be from a licensed gold buying company with which you have no affiliation. You must receive an itemized written offer for your scrap gold jewelry, silvers, watches, platinum, diamonds, cars, motorcycles and present us with a copy of this offer within 5 days of the date written on the offer. If the competitive offer is more than our offer, we will match the competitive offer based on todays gold price plus an additional 10% bonus over the difference.
Our flagship store in Syosset is where we not only established our business but also earned our reputation as one the most reputable gold buying and pawn loan providers in the tri-state area. Our Syosset location buys and offers collateral loans on all items including jewelry, watches, coins, cars and motorcycles. If you have unusual items of value we will be happy to consider these items for sale or loan. The Gold Standard is not your ordinary gold buyer or pawn shop. We treat each transaction with the highest degree of respect. Our clients leave with a feeling of not only fair treatment but also with the knowledge that their transaction was conducted with the highest level of dignity and respect. For those transactions involving precious gems such as diamonds, our Syosset location has a trained and certified gemologist on staff. Diamonds are always evaluated in your presence and we use our vast industry connections to obtain the highest value for your gems. With over 75 years serving the needs of the Long Island community, we are grateful for the continued business we receive.
 Phone:
(516) 324-3210
Address:
150 Aerial Way
Syosset, NY 11791
Hours:
Open 7 Days: 10AM – 6PM
Open Late Wednesdays until 8PM.
Email:
syosset@nygoldcashers.com
Gold Buyer:

YES

| Pawn Broker:

YES
Sell Gold Syosset, NY
"You need to know who you can trust. It's a true vote of confidence that Syosset Pawn Shop, The Gold Standard was voted the Best Gold Buyer on Long Island for 2012."
— Long Island Press
Click here for our other locations Nassau County locations, Suffolk County locations or all Long Island locations.
3D Tour of our Syosset location
Photo Gallery: