Suffolk County Pawn Shops / Cash Loans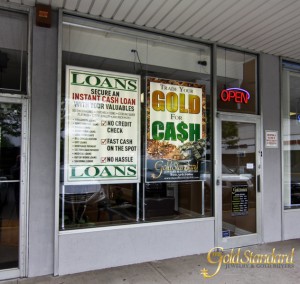 At The Gold Standard Jewelry & Gold Buyers Suffolk County Pawn Shops, our mission is to provide reliable, honest service to our customers whether they come to us looking to sell their items or simply take a pawn cash loan out on them. With 8 locations throughout Long Island & Suffolk County, our staff is committed to the highest ethical standards and practices when handling every one of their transactions each day. When you come in to The Gold Standard pawn shops in Suffolk County, you can feel safe and trust that we will give you the best possible loan at the lowest rates!
Honest Pawn Cash Loan Suffolk NYC
How do you know you can trust us?  The Long Island Press has ranked us the #1 pawn shop on Long Island, and the #1 gold buyers on Long Island four years running!  With a fixed interest rate of only 4% and over 75 years of experience in the jewelry business, there is no reason to search anywhere else. Our world class service has earned us a 98% customer satisfaction rating, New York's ONLY Gold Buyer to receive such a high rating.
Demand the Highest Standard: The Gold Standard
In times of economic hardship why is it that The Gold Standard continues to grow? Our loyal customers come back time and time again as a result of the impeccable service they receive from our knowledgeable and courteous staff.  It doesn't hurt that we offer the highest prices, lowest interest rates for our pawn cash loans, and pay cash on the spot!  We treat all of our Suffolk County pawn customers with the highest respect because we understand that letting go of your treasured items is not an easy decision to make. As members of the National Pawn Brokers Association, we adhere to the strictest ethical standards in the industry, so you know that your transaction will be handled with the utmost discretion and integrity.
Our Suffolk County Pawn Shops Were Voted #1
It is not without reason that we have been voted #1 Pawn Shop 2013-2014 and #1 Gold Buyer for the last four years in a row! At The Gold Standard we will give you a free appraisal and loan you the cash value of your items on the spot. No background or credit checks when you get a pawn cash loan from us! To prove we have the best rates we'll even give you your first month interest free!!
Come Visit Our Suffolk Pawn Shop Locations:
What Can We Pawn for You?
The Gold Standard employs only the best at our Suffolk county pawn shops.  Each member of our staff is trained to assess the value of anything that could walk in through the door. Jewelry is not all we specialize in; we even let you take loans out on items such as watches, high end handbags and electronics like iPhones, tablets and laptops among other things! With state of the art security such as high tech cameras and temperature controlled vaults we guarantee that your items are extremely safe and will return in pristine condition. Come into The Gold Standard today to have your items appraised over a cup of coffee and see what we can do for you!