Review Summary:
Excellent experience - great service and price. 1/23/2013
Forest Hills Pawn Shop • Forest Hills Gold Buyer
Forest Hills Jewelry Store
Voted #1 Pawn Shop 2013 – 2016 | Voted #1 Gold Buyer 2011 – 2016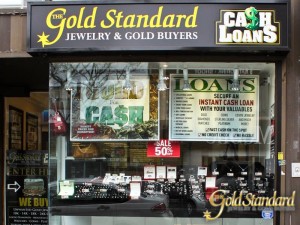 Located in the heart of the retail center of Austin Street, Queens, our Forest Hills pawn shop and jewelry store offers the largest selection of refurbished jewelry for sale in the entire New York region. From diamond hearts, earrings and pendants to bracelets, bangles and more. All refurbished jewelry is cleaned, polished, and sold in like-new condition at up to 80% off normal retail prices. Why shop a traditional jewelry store when you get the same fashion piece for half the price!
Along with our immense stock of refurbished jewelry, we also offer the same buying and pawn loan services that our 3 other locations offer. We purchase and offer pawn loans on jewelry, diamonds, watches and instruments. Along with having a trained and certified gemologist on staff we also have a musical instrument appraiser who specialized in guitars. Our Forest Hills location has been honored with being named the number one gold buyer in the Forest Hills area for 6 years running from 2011 through 2016 as well as being named the number one pawn shop in 2013-2016. As Forest Hills #1 gold buyer and Forest Hills #1 Pawn Shop, our staff of trained experts are here to provide a free appraisal, expert and friendly customer service and a secure environment.