Review Summary:
Jared was amazing! From start to finish be mad me feel so welcome and at ease. Honestly his product knowledge and customer service was world class! 2/3/2013
Floral Park Pawn Shop & Floral Park Gold Buyers
Floral Park's "A" rated, BBB Pawn Shop | #1 Voted Floral Park Gold Buyer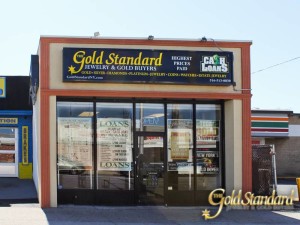 Our Floral Park pawn shop in Long Island, NY is located near the corner of Little Neck Parkway and Hillside Ave. Located near the Nassau/Queens border, Floral Park/Glen Oaks is a convenient location for clients from both Long Island and Queens. We have a trained and certified gemologist on staff to provide expert appraisals of all gold, diamonds and jewelry. Customers looking to sell their jewelry or receive collateral loans for their precious items will be welcomed by a comfortable atmosphere, trained staff and secure location at our pawn shop by Queens. All transactions are done in a private office at our pawn shop in Long Island for your security.
The Gold Standard was Voted #1 Gold buyer in 2011-2016.  We were also voted #1 Pawn Shop in 2013-2016. At our Floral Park pawn shop in Queens, we provide the highest level of customer service, the best purchase prices and the most favorable loan amounts in the area. Our 110% price match guarantee is why we are the place to go when selling your items or seeking a collateral loan.
We purchase and provide collateral loans on all gold items, platinum, sterling silver, jewelry, high end watches, diamonds and diamond jewelry, cars, motorcycles and more in our pawn shop in Long Island.
Floral Park Pawn Shop in Long Island, NY:
Phone:
(646) 470-2950
Address:
254-10 Hillside Avenue
Floral Park NY 11004
Hours:
Open 7 Days: 10AM – 6PM
Open Late Wednesdays.
Email:
floralpark@nygoldcashers.com
Gold Buyer:

YES

| Pawn Broker:

YES
Voted Best Pawn Shop & Best Gold Buyer
"You need to know who you can trust. It's a true vote of confidence that The Gold Standard was voted the Best Gold Buyer on Long Island for 2012."
— Long Island Press
We have 4 Queens locations. Click here to view our other Queens pawn shop locations.
Enjoy this Web-Coupon
Bring in a Web Coupon into our Floral Park gold buying locations and receive an extra 20% cash when you sell at least $500.00 or more!

PRINT COUPON
Floral Park

Gold Buyers Services:
Floral Park Gold Buyer Photo Gallery:
3D Tour of our Floral Park location