Review Summary:
They were awesome and explained all the questions I had pertaining to the price process etc. 1/8/2013
Carle Place Gold Buyer
The Gold Standard – New York's #1 Gold Buyer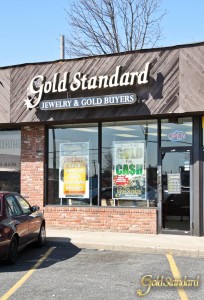 The Gold Standard of Carle Place is one of The Gold Standard's 4 premier gold buying stores in New York. Located within easy reach of both the Roosevelt Field and Source Malls, our Carle Place Store buys and sells all jewelry items. This location is also one of The Gold Standard's jewelry outlet centers.  We offer incredible deals on jewelry that is out of pawn.  The various items we sell, from diamond rings to bracelets to fine watches, are all polished and refurbished to like-new condition. We provide a pleasant and inviting atmosphere for prospective customers to browse, find a gift or get that crazy deal you have been looking for.  If you are looking to sell, buy or trade jewelry, watches or diamonds, the Carle Place store will provide a comfortable environment and the best prices in New York.
As the Carle Place #1 gold buyer, we provide the highest level of customer service and the best purchase prices in the area. When you are looking to sell your jewelry in Carle Place look no further than The Gold Standard. We provide a comfortable atmosphere with friendly service and the highest cash payout guaranteed.
The Gold Standard was Voted #1 Gold Buyer in 2011-2016
Phone:
(516) 324-2827
Address:
349 Old Country Road
Carle Place, NY 11514
Hours:
Open 7 Days: 10AM – 6PM
Open Late Wednesdays until 8PM.
Email:
carleplace@nygoldcashers.com
Gold Buyer:

YES

| Pawn Broker:

NO
Our Carle Place Gold Buying Store
Enjoy this Web-Coupon
Bring this Web Coupon into The Gold Standard at Carle Place and receive an extra 20% cash bonus!

PRINT COUPON
3D Tour of our Carle Place Gold Buying location
Voted Best Gold Buyer on Long Island
"You need to know who you can trust. It's a true vote of confidence that The Gold Standard was voted the Best Gold Buyer on Long Island for 2012."
— Long Island Press
Click here for our other Nassau County locations, Suffolk County locations, or all Long Island locations.