Review Summary:
So friendly. Explained everything in detail. Helped out 100%. Very professional. 2/5/2013
Astoria Pawn Shop & Astoria Gold Buyer
The Gold Standard – New York's #1 Gold Buyer & Pawn Shop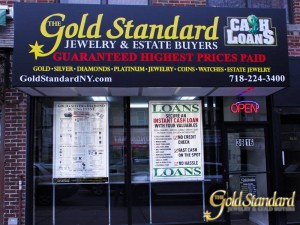 The Gold Standard of Astoria is part of The Gold Standard's 8 premier gold buying locations and pawn shops in New York.  We are located on 30th ave between 35th and 36th street, near Steinway Street. Our Astoria gold buying location purchases all jewelry related items including gold, silver, platinum, diamonds, estate pieces, watches and more. If you are not looking to sell your valuables but are in need of short term cash we offer collateral loans on the same items.  Simply bring your items to our Astoria pawn shop and our friendly customer service will evaluate and appraise your items free of charge.  We will discuss your options for selling and pawning your items and provide you with as much information as you need to make an informed decision.  When you sell your jewelry in Astoria or receive a collateral loan, you will walk out with the cash you need in minutes.
Our Astoria pawn shop provides the highest level of customer service, the best purchase prices and the most favorable loan amounts in the area. Our 110% price match guarantee is why we are considered Astoria's #1 Pawn Shop and Astoria's #1 Gold Buyer.  When you are looking to sell your jewelry in Astoria or are seeking a collateral loan, look no further than The Gold Standard of Astoria. We provide a comfortable atmosphere with friendly service and the highest cash payout guaranteed.
The Gold Standard was Voted #1 Gold Buyer in 2011, 2012, 2013 & 2014 And…
#1 Pawn Shop in 2013 & 2014
Phone:
(347) 220-8460
Address:
36-16 30th Avenue, Astoria, NY 11103 | Map
Hours:
Open Monday through Saturday
CLOSED SUNDAYS
Monday-Saturday: 10 AM – 6 PM                                   Open Late Wednesdays: 10 AM – 8 PM
Email:
astoria@nygoldcashers.com
Gold Buyer:

YES

| Pawn Broker:

YES
Astoria Gold Buying Location & Astoria Pawn Shop:
Enjoy this Web-Coupon When you Sell Gold in Astoria
Bring this Web Coupon into The Gold Standard of Astoria and receive an extra 20% cash bonus when you sell gold at Astoria.

PRINT COUPON
Astoria Gold Buyers & Astoria Pawn Shop:
At The Gold Standard of Astoria we purchase and provide loans on all jewelry related items including:
Buy and Pawn Silver
Buy and Pawn Platinum
Buy and Pawn Diamonds
Buy and Pawn Watches
Buy and Pawn Gold
We also provide collateral loans on cars and motorcycles.  If you're looking for a small business loan in Astoria, we are your ultimate destination.  Simply bring in any valuable listed above and walk out with cash the very same day.
At our Astoria gold buying location we buy sterling silver flatware and all gold and platinum jewelry. We pay high cash prices for your platinum and diamond jewelry. Our Astoria gold buying location offers gemologists on hand to professionally evaluate and appraise your diamonds and jewelry and provide you with a cash payout in minutes.  If you're looking to pawn your watch in Astoria, we invite you to stop in to our Astoria Pawn Shop for a free evaluation!
| | |
| --- | --- |
| Photos from our Astoria Pawn Shop: | 3D Tour of our Astoria location: |
| | |
Voted Best Gold Buyer
"You need to know who you can trust. It's a true vote of confidence that The Gold Standard was voted the Best Gold Buyer on Long Island for 2012."
— Long Island Press
We have 4 Queens Pawn Shop locations. Click here to view our other Queens Gold Buying and Pawn Shop locations.