Review Summary:
So friendly. Explained everything in detail. Helped out 100%. Very professional. 2/5/2013
Your #1  Source in Astoria and Surrounding Areas For Car Pawn Loans / Motorcycle Loans, Cash Loans and Gold Buying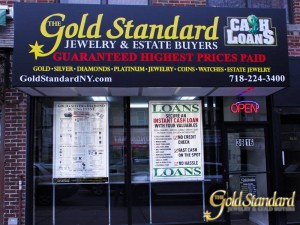 We are open 7 days a week and guarantee to pay the highest prices. If you find a higher offer, bring it to us in writing and we'll beat it by 10%!! Not ready to part with your sentimental pieces? We offer collateral loans (jewelry, cars, motorcycles) with only 4% interest and you get cash on the spot! Bring in any of your gold, silver, platinum or diamond jewelry today for a free appraisal by our friendly and knowledgeable staff and put our 110% price guarantee to the test! Our Astoria Pawn Shop has been Voted #1 Gold Buyer 2011, 2012 & 2013 | Voted #1 Pawn 2013
Our Astoria store is located on 30th ave near Steinway Street.  This location buys all jewelry related items including gold, silver, platinum, diamonds and estate pieces.  If you are not looking to sell but are in need of a short term cash we make collateral loans on the same items.   Voted the #1 Gold buyer in 2011, 2012 and 2013 along with the best pawn broker in 2013, we provide the highest level of customer service, the best purchase prices and the most favorable loan amounts in the area.  Our 110% price match guarantee is why we are the place to go when selling your items or seeking a collateral loan.  All of our locations provide a comfortable atmosphere and friendly service.
In addition to gold,
at our Astoria location
we also buy & pawn:
Silver
Platinum
Diamonds
Watches
Estate Jewelry
Electronics
We will be happy to answer any of your questions or appraise any of your valuables!
–Visit us today to get cash fast!
Enjoy this Web-Coupon For Astoria Gold Buyers
Bring in a Web Coupon into The Gold Standard at Astoria and receive an extra 20% cash when you sell gold valued at $500.00 or more!
PRINT COUPON
At the Gold Standard we Also:
Buy and Pawn Silver
Buy and Pawn Platinum
Buy and Pawn Diamonds
Buy and Pawn Watches
We buy your silver utensils and jewelry here in Astoria. We also pay high prices for your platinum rings, necklaces and other items. We will gladly accept your pawn of diamonds. We also have expert diamond buyers and appraisers at our Astoria, NY location! If you need a place to sell a watch, or are looking to get a pawn cash loan for a watch and live in the Astoria area, we invite you to stop in and have a cup of coffee to see what your valuables are worth!
Phone:
(347) 220-8460
Address:
36-16 30th Avenue,
Astoria, NY 11103 | Map
Serving:
Astoria, Woodside, Long Island City
Sunnyside in Queens NY
Hours:
Open 7 Days Every Week:
Mon-Tue: 10 AM – 6 PM
Wed: 10 AM – 8 PM
Thu-Sun: 10 AM – 6 PM
Email:
astoria@nygoldcashers.com
Gold Buyer:

YES

| Pawn Broker:

YES
Our Astoria Gold Buying Store
Photos from our Astoria Gold Buyers:
3D Tour of our Astoria location
Our Astoria, NY gold buying location is convenient to Queens, NY.
Astoria is bounded by the East River and is adjacent to three other Queens neighborhoods: Long Island City, Sunnyside (bordering at Northern Boulevard), and Woodside (bordering at 50th Street). Astoria is patrolled by the New York City Police Department's 114th Precinct.
Transportation in Astoria:
The Buses that criss-cross Astoria are, the numbers: 18, 19, 19A, 101, 102, 103, & 104.
Astoria is a 20-minute commute on the N or W subways to midtown Manhattan.

The subway runs above ground along 31st Street.

The Grand Central Parkway cuts through Astoria on its way to the Triborough Bridge.

The last exit is at 31st Street.

The beautiful "Hell Gate Bridge" cuts above Astoria carrying freight and Amtrak trains.
LaGuardia Airport is a hop, skip, and jump via the Grand Central.
Voted Best Gold Buyer on Long Island
"You need to know who you can trust. It's a true vote of confidence that The Gold Standard was voted the Best Gold Buyer on Long Island for 2012."
– Long Island Press
Our Service Rating: 98 out of 100, based on 2,024 user ratings

We have 4 Queens locations.  Click here to view our other Queens Gold Buying and Pawn Shop locations.  
* Does not include Cars or Motorcycles