Review Summary:
very pleased... 12/19/2012
Sell Watches for Cash at The Gold Standard NYC
If the time is up, and your unwanted watches are wearing out their welcome, sell your watch for cash at the Gold Standard and we will buy your timepieces so you can earn extra cash for new watches. We accept many watch designers including, but not limited to, used Rolex, Breitling, Tiffany, Cartier, Patek Philippe, Panarei, Hublot and more. Bring in your gold, silver and platinum watches for an appraisal and receive unparalleled customer service when you sell watches for cash in NYC to one of our knowledgeable and friendly Gold Standard watch specialists.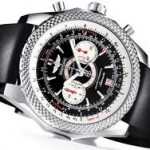 When you get cash for watches from us, The Gold Standard offers an upgraded take on the typical pawn shop experience.  We have been voted the "Best Gold Buyer in Long Island" by the Long Island Press 4 years in a row. If you're looking to sell watches in Long Island or Queens, you can rest assured knowing you and your valuables are in good hands with the Gold Standard.

With over seventy-five years of experience in the jewelry business, not only do we take pride in offering the highest possible price when you sell your watch for cash, we are committed to making the transaction as fair and transparent as possible. As proud members of the Jeweler's Vigilance Committee, there are absolutely no tricks, hidden fees, minimum weight requirements or other surprises when you sell watches for cash in NYC. We maintain state-of-the-art scales that are certified and calibrated by the State of New York; we are licensed and insured to purchase your watch, and we provide private viewing locations to sell watches for cash discreetly in NYC.
Common Watches We Buy:
Many factors determine the purchase price for your watch when you sell watches for cash in NYC. We have expert appraisers in each of our locations that are trained in the understanding of the high end watch market. Using our vast knowledge and experience as well as proprietary databases and services, we are able to accurately appraise your watch and get you the highest cash payout for your watch. The Gold Standard truly sets the standard by offering superior customer service that guarantees your satisfaction every time you sell your watch for cash.
The privacy, peace of mind and trust of our customers are at the forefront of our business. When it comes to selling watches for cash at The Gold Standard, time is money —  don't waste another minute, see us today!
No appointment is necessary, however it is recommended when you sell used watches with values greater than $2000.  For more information about selling watches for cash, call us at 800-316-7060.