Review Summary:
Renee was terrific - she really worked hard to provide excellent service to me. She was also very fair and honest and trustworthy. 1/23/2013
We Buy Gold at The Gold Standard
If you have a jewelry box filled with items that you haven't worn in years, now is the time to turn that unwanted jewelry into cash. The Gold Standard is your trusted source for receiving top dollar for your unwanted jewelry. We provide a safe, comfortable environment to sell your gold for cash in Long Island & Queens. We offer free expert appraisals, exceptional customer service and the highest cash payout in New York.
The Gold Standard was Voted #1 Gold Buyer in New York
2011 – 2016 by the Long Island Press!
With more than 75 years in the jewelry industry, the professionals at The Gold Standard make converting unwanted gold jewelry, watches, coins and other gold pieces into cash quick, easy and efficient. Each of our gold appraisers is a specialist in valuing and assessing gold, and no matter what the condition of your gold items we guarantee you will receive the highest cash payout. You can enjoy peace of mind knowing that you will receive a high cash payout in minutes, all while experiencing the highest level of customer service.
Why Sell Gold at The Gold Standard: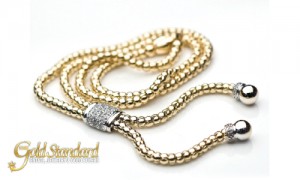 –       98% Customer Satisfaction Rating
–       'A' rating with the Better Business Bureau
–       Voted #1 Gold Buyer 2011 – 2016 by the Long Island Press
How To Sell Gold for Cash
Selling your unwanted gold for cash is easier than ever.  Simply come into any of our 4 gold buying stores in Queens or Long Island. Our experts will test and weigh your gold pieces in front of you on our New York State-certified and calibrated scales, then offer you the highest cash payout you will find anywhere in the metro NYC area.  Our experienced gold appraisers make your privacy and comfort their top priority.  At The Gold Standard, you can walk in with your gold and walk out with your cash in minutes, all while enjoying an experience unsurpassed in the industry.
– No appointment is necessary
– Visit any of our 4 Long Island and Queens Gold Buying Stores
– Our expert appraisers will weight, test and evaluate your gold items right in front of you on NY State certified scales
– In a matter of minutes you can receive a high cash payout
At The Gold Standard we buy all gold jewelry items, regardless of condition.  We purchase all 10K, 14K, 18K and 24K gold jewelry including:
Scrap Gold
Broken Gold
All Gold Jewelry
Estate Gold Pieces
Much, much more
Please note that to complete any gold sale transaction, you must provide a valid government-issued ID that shows you are 21 or older.
At The Gold Standard it has never been easier or faster to convert your gold into cash.  Get top dollar in a matter of minutes for your unwanted gold jewelry.  Come into any of our 4 New York gold buying locations or call us at 800-316-7060 today!
Get Cash for Your Gold: