Review Summary:
Lisa was very helpful and she had excellent customer service! 12/11/2012
Sell Your Estate Jewelry
with New York's Trusted Source
The Gold Standard specializes in individual estate jewelry items as well as large estates that are looking to be liquidated do to the passing of a relative.  We work closely with legal representatives of the family to ensure the beneficiaries receive the highest cash value when they sell estate jewelry. Estate jewelry most often cannot be appraised the way fashion jewelry is appraised.  Estate jewelry consists of unique, one-of-a-kind pieces of jewelry usually with rare gemstones.  It can be vintage, antique or rare jewelry items that are not monetarily comparable to fashion pieces sold in jewelry stores today.  The Gold Standard has expert gemologists with over 25 years experience in appraising estate jewelry.  Using our experience, knowledge, industry connections and resources, we are able to evaluate and appraise so you can sell your estate jewelry and get the highest cash payout possible.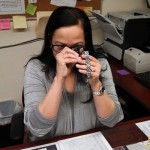 The Gold Standard is a family owned business that has been in the jewelry industry for over 75 years.  We understand and appreciate the value of unique jewelry pieces.  Most often estate jewelry holds strong sentimental value.  It may be a piece of jewelry that has been passed down for generations or a one-of-kind piece of jewelry that was purchased by a loved one for a special occasion.  When you are ready to sell your estate jewelry, The Gold Standard is your trusted source for appraising and valuing your valued items.
Why Sell Your Estate Jewelry with The Gold Standard
You can sell estate jewelry at any 8 convenient locations in Manhattan, Long Island and Queens. We are proud of our 98% Customer Satisfaction rating and A rating with the Better Business Bureau.  We are licensed Estate Jewelry Buyers and our scales are calibrated yearly by New York State.
Experience and expertise to accurately appraise your estate jewelry
Experience in liquidating large estates or individual estate jewelry items
Gemologists on staff with over 25 years experience in purchasing estate jewelry
Industry connections and resources to determine correct value for your estate jewelry
'A' Rating with the Better Business Bureau
The Gold Standard was Voted #1 Gold Buyer 2011-2016 by the Long Island Press
For more information or to schedule an appointment to sell your estate jewelry, call us at 800-316-7060 today.