Secure A Cash Loan with Your Trading Cards And Other Collectables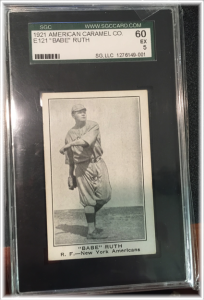 Your collectables could be the key to meeting your short-term financial needs. The Gold Standard is the leading expert in collateral loans against assets. Founded by a family that has been a respected leader in the luxury goods business for more than 75 years, The Gold Standard has become the most-trusted choice for those seeking a secure and discrete way to use your items as collateral for financing.
Receive a Collateral Loan on your Collectables
Our clients use their collections to secure financing for many reasons. Most were very relieved to know that they can get the cash they need without selling the items that mean so much to them. Many collectors will sell items in order to buy others. Our clients now have the ability to leverage high value items. This can free up the funds to purchase other collections or help with an emergency.
During the term of your loan your items will be kept safe in a secure location with 24-hour surveillance.  In addition, all items are fully insured up to their fair market value. Once you've repaid your loan your collectables will be returned to you in the same condition they were received.
We are The Gold Standard for Collateral Loans
Our commitment to the highest level of customer satisfaction is why The Gold Standard has been able to consistently maintain an A+ rating with the Better Business Bureau.  It's also why 70% of our business comes from repeat customers and referrals from past clients, and how we achieved an unprecedented 98% customer satisfaction rating from past customers.
With our years of experience, vast knowledge of the collectable market and our commitment to customer satisfaction, The Gold Standard is the #1 option for loans against your assets.
No Credit Check / No Negative Credit Reporting
Highest Cash Payout
Low Interest Rates
Secured Storage with 24 Hour Surveillance

Discreet Financing
Same Day Cash
Join the thousands of others who have placed their trust in The Gold Standard. Call us now at (800) 316-7060 to schedule you free, professional appraisal, or simply stop by any of our 7 locations today.
Do you live out of state?
Call us now at (800) 316-7060 to speak with a specialist. Get the same low rates and high cash payout by mailing in your items to us. No hassle, safe and secure loans are just a phone call away!