Our Family Business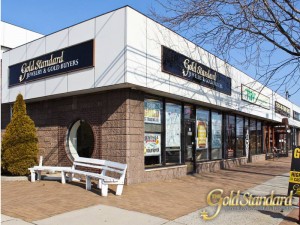 The Gold Standard family brings over 75 years and 3 generations of fine jewelry experience to the gold buying and pawn loan business.
In 2009 we used our knowledge and experience in the jewelry industry to open our first gold-buying store in Syosset, NY.  With a commitment to establishing ourselves as the most reputable buyer of gold and jewelry, we have opened 3 additional stores throughout Long Island and Queens.  We are proud to stand at the forefront of our industry as the most honest and reputable gold buyer committed to the highest level of service and standards when it comes to buying and loans.
With over 75 years in the jewelry business our family offers the knowledge and expertise to deliver the high quality service that best serves our clients.  The Gold Standard business strategy is to provide each of our customers a safe, secure and discreet way to sell or finance their valuables.  
What can you expect at The Gold Standard?  We are certainly not your ordinary "pawn shop".  We are proud of our A rating with the Better Business Bureau and are committed to the highest ethical standards.  All transactions take place in private viewing rooms for your comfort and security.  Your items are weighed and tested right in front of you.  You will never be charged hidden refining fees and there is no minimum weight requirements.  Your safety and trust is our #1 priority.  There is never any obligation to sell or finance your valuables.

The Gold Standard Jewelry & Gold Buyers was voted #1 Gold Buyer 6 years in a row by the Long Island Press in 2011 -2016 and #1 Pawn Shop 4 years in a row, 2013-2016!
The Gold Standard is proudly committed to growing our company the right way – by providing each customer with a fair transaction, quality service and to surpass all expectations.  Our most important form of advertising over the years has been our clients.  More than 70% of our business comes from repeat business or referrals from past customers.  We have grown to four locations by providing our customers with honest transactions and the highest cash payout possible.  We opened our first store in Syosset, NY with a commitment to establishing ourselves as a reputable buyer and loan broker. Since then have opened 3 additional stores in Forest Hills, Carle Place and Floral Park. View a 3D Tour of our stores or photos so you know what to expect before you come in!  We're proud to stand at the forefront of the industry as an honest and reputable buyer and collateral loan broker offering high payouts to our customers. Our prices change daily and are based on the London PM Fix.  For more information click here.
The Gold Standard has been interviewed by and featured in CNN, NBC, News Channel 12, Money Magazine, Newsday and Daily News.  We have also had the honor of partnering with American Express in a commercial for Sandy relief.  This media exposure has helped establish The Gold Standard as the premier buyer and loan broker in the area.  We are involved in numerous charities and run many fund raisers for local fire departments, schools and hospitals.
√ Voted #1 Gold Buyer 6 Years in a Row, 2011-2016, by the Long Island Press
√ Voted #1 Pawn Shop on Long Island in 2013- 2016 by the Long Island Press
√ Members of the Jeweler's Vigilance Committee
√ Members of the BBB with an A Rating
√ Members of the Jewelry Security Alliance
√ 98% Customer Satisfaction Rating
We invite you to experience The Gold Standard Difference: exceptional service, a friendly environment and high cash payouts. Don't settle for less!
Customer Satisfaction Survey Results
As part of our Commitment to customer service, The Gold Standard Jewelry & Gold Buyers hired Market Research Solutions, Inc., a highly regarded independent research corporation, to survey customers who sold gold, diamonds, estate jewelry, watches, coins and scrap gold to The Gold Standard in 2009.
97% of respondents would recommend The Gold Standard to a friend or relative
96% state they were treated by courteous and professional staff
96% state that they were treated with respect
By a 10 to 1 ratio, respondents said that The NY Gold Buyers at The Gold Standard have prices that are some of the highest when compared to the competition!
When it comes to selling your valuables or if you're in need of a quick cash loan, don't settle for less.  Call 800-316-7060 for more information or come in to any of our 8 Manhattan, Queens, and Long Island locations for a fair, honest appraisal and transaction.